Recently, the "2022 China Top 10 Brands" list was announced, and OKES Lighting has been awarded the "China Top 10 Home Lighting Brands" and "China Top 10 Intelligent Masterless Lighting Brands" for five consecutive years, confirming with strength that the OKES brand value has been widely recognized by The strength of OKES brand value has been widely recognized by various sectors, and also harvested the industry institutions and consumers' word-of-mouth "coronation".
The honor of "China's top ten home lighting brands" and "China's top ten intelligent master light brands" is not only an industry system trust, but also a true expression of public authority. The height of the media measures the height of the brand, OKES Lighting will always strictly adhere to the spirit of craftsmanship of excellence, firm wisdom to create the leading, innovation to achieve excellence in the corporate philosophy, to achieve the future with quality, and walk in the forefront of industry development.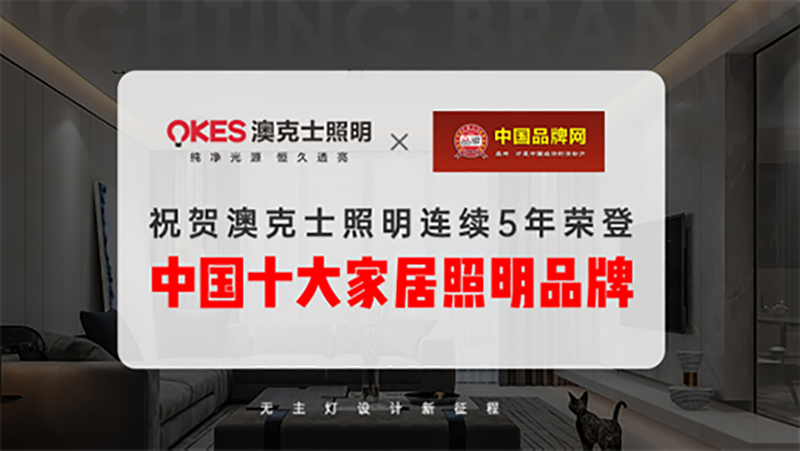 Thirty years of wind and rain, creating quality lighting brand
OKES was founded in 1993, the company headquarters is located in "China's Lighting Capital" - Zhongshan Guzhen, Guangdong, is one of the core enterprises of Huayi Group, the largest lighting manufacturer in Guzhen. OKES Lighting is mainly engaged in energy-saving and environmental protection lighting products, from traditional light sources to new LED light sources, and then to home, lighting, engineering, commercial, electrician and other six major fields with more than 2,000 varieties, to achieve complete coverage of the whole industry chain, and has a history of 30 years.
Since the beginning of its establishment, OKES Lighting has set up a research and development center, adhering to the business philosophy of innovation, quality and service, taking user experience as the core, keeping up with new market demands and trends, constantly exploring and extending the meaning of lighting in a better life, and continuously exporting LED lighting products with excellent performance, advanced functions and green environment protection to the market. We are striving to create a quality habitat for hundreds of millions of consumers and play a key role in building a better life for Chinese people.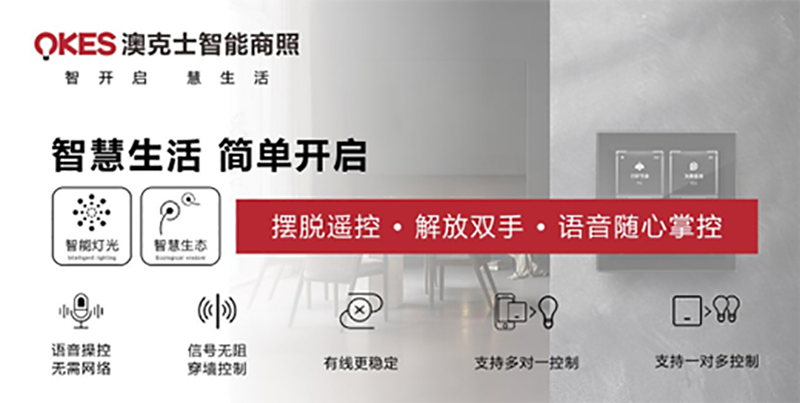 Empowering the brand's steady development with innovation and enjoying new life wisely
Innovation is the constant topic of the times and the eternal theme of OKES Lighting. Innovation is the core driving force of brand development, and products are the best carrier of "innovation". Having cultivated the lighting industry for thirty years, OKES Lighting continues to pay attention to the needs of users and is committed to developing products that are closer to consumer needs.
In recent years, in the background of the era of Internet of everything, lighting intelligence has become an inevitable trend. Under the stimulation and promotion of market demand, OKES Lighting has vigorously promoted the layout of intelligent commercial lighting, taking "'light intelligent' solution provider" as its product positioning, integrating multiple functions such as visualization, unified control and automatic induction, with the advantages of no With the advantages of no network and three-second pairing, it maximizes energy saving and brings more business added value and innovation space for users. With the support of innovative ideas and advanced technology, OKES Lighting has shown a new posture as an industry leader in terms of product innovation, brand building and channel management.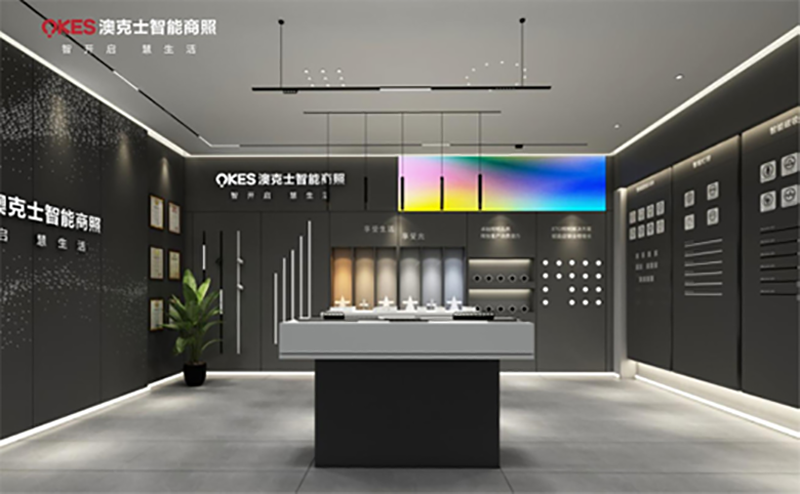 The title of "China's Top 10 Home Lighting Brands" awarded by China Brand Network for five times has provided a strong influence and communication power for OKES Lighting's nationwide marketing strategy. In the future, OKES will insist on carving the light and shadow of the times with ten years of craftsmanship, taking innovation as the force of development and serving consumers as the force of progress, and contributing to the happy life of the people!
---
Post time: Nov-15-2022